DRESS AND FASHION CODE
Our students have a reputation for appearing tidy and decent: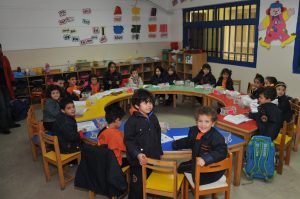 Uniforms

: All children must wear the official school uniform every day.

Physical Education Uniform:

On those days when the children are scheduled to take
Their Physical Education class, students must wear the school PE uniform.

Hair

: Hair is to be neat, clean, properly combed.
– For boys, the hair should not extend beyond the top of the collar. Young girls' hair should beClean and combed. Extravagant hairstyles and colors which fall outside the normal spectrum,are not permitted. Hair dyeing is not permitted and long hair must be tied back.
Hats:

 are not worn indoors, nor back-to-front.

Shoes:

Students should wear black shoes and white socks. As KG Students are too young to tie their own shoelaces. They should be provided with Velcro fasteners.

Make-up and nail-polish: 

are not permitted on young girls.

No jewelry,

except for a set of pierced earrings is permitted.

Cell Phones:

Students in lower school grades are not permitted to bring cell phones, IPADS, or any other electronic devices to school. These devices in the possession of younger children get lost, damaged, or are left on school buses.

MMLS takes no responsibility for lost or damaged electronic devices.

TOYS:

In general, we do not recommend that children bring their toys to school unless the teacher asks the student to bring a toy for show and tell.

PS:

Children should not wear soiled or dirty clothing to school. Any child determined to be inappropriately dressed for school will not be permitted to attend class. A parent/guardian will be contacted to come to school and take the child home or bring the appropriate clothing.